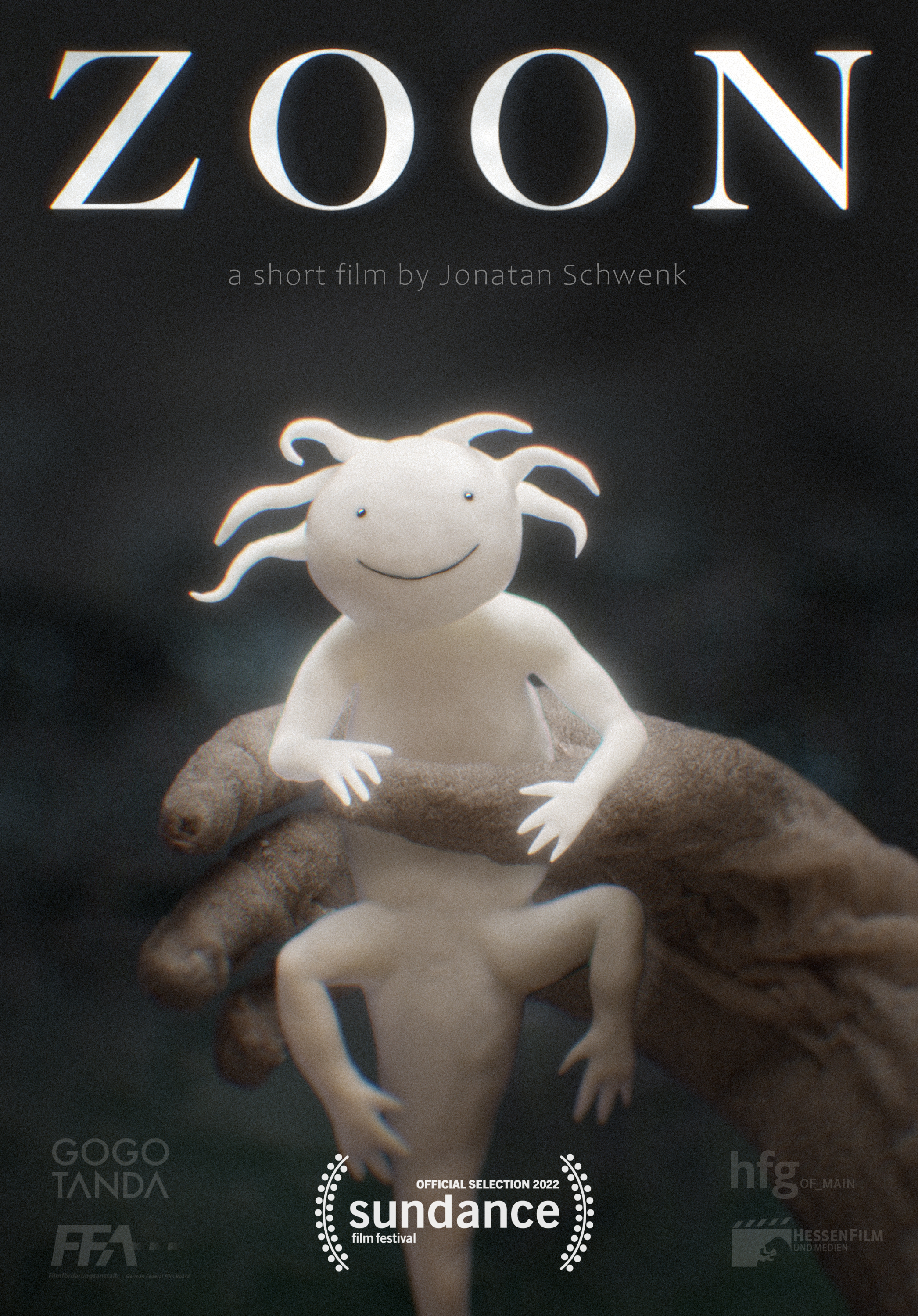 Awards:
*NEF Prix Plans Animés* (Festival Premiers Plans, France)
*Short Tiger Award* (Germany)
*Audience Award* (Animatricks Animation Festival, Finland)
*Peer Raben Music Award* for composer David Kamp at Soundtrack Cologne, Germany
*Honorable Mention* Mammoth Lakes Film Festival, USA
*Honorable Mention* Festival International de Cine en Guadalajara, Mexico
*Jury's Personal Pick* by Koji Yamamura, Hiroshima Animation Season 2022, Japan
*Audience Award" Visual Poetry category, Hiroshima Animation Season 2022, Japan
*Best International Animation Short* 34th Galway Film Fleadh, Ireland
*Special Student Film Mention* Turku Animated Film Festival, Finland
*Craft Award for Best Sound Design* Ottawa International Animation Festival (Canada)
*Primasound Jury Special Mention* Primanima World Festival of Animations, Hungary
*Most Original Short* Sognielettrici (Electricdreams) International Film Festival (Italy)
animated short
Germany, 2022, 04:25 min
In the dark swamps of a nocturnal forest, a group of gleaming axolotls is in heat, nuzzling and nibbling one another's limbs. Soon a much larger, two-legged forest-dweller encounters the lustful group and reaches down to gobble one of the small shimmering creatures. His plump friends begin to partake as well and a feast begins. While dawn is slowly breaking, a cheerful game begins higher up in the branches.
press kit
(including image material):
text version to be found here:  link
version with visuals: download pdf
Trailer: https://vimeo.com/662706061
stay up to date:
on Instagram: @jonatanschwenk
festival selections:
(excerpt)
Sundance Film Festival 2022 (USA)
Festival Premiers Plans d'Angers (France)
REGARD – Saguenay International Short Film Festival (Canada)
Go Short International Short Film Festival, Netherlands
Dresden Filmfest, Germany
GLAS Animation Festival (USA)
Seattle International Film Festival (USA)
DC International Film Festival (USA)
Milwaukee Film Festival (USA)
Kurzfilmfestival Hamburg (Germany)
Animafest Zagreb (Croatia)
Festival Internacional de Cine en Guadalajara (México)
Palm Springs International ShortFest (USA)
Galway Film Fleadh (Ireland)
SIGGRAPH 2022 Computer Animation Festival (Canada)
18th Annual HollyShorts Film Festival (USA)
HAS Hiroshima Animation Season 2022 (USA)
Concorto Film Festival (Italy)
Turku Anmated Film Festival (Finland)
Festival Silhouette (France)
Fantoche (Switzerland)
Pictoplasma (Germany)
Ottawa International Animation Festival (Canada)
Viborg Animation Festival (Denmark)
Encounters Film Festival (UK)
Vancouver Int'l FF (Canada)
Primanima World Festival of First Animations (Hungary)
Uppsala Short Film Festival (Sweden)
Denver Film Festival (USA)
New Chitose Airport International Animation Festival 2022 (Japan)
Leeds International Film Festival 2022 (UK)
AFI FEST FILMFESTIVAL 2022 (American Film Institute) (USA)
(complete list in press kit above, text version)
Credits:
directed and produced by Jonatan Schwenk
music & sound design David Kamp
screenplay Merlin Flügel, Jonatan Schwenk
puppet fabrication Anne Breymann, Hélène Tragesser, Jonatan Schwenk
puppeteers Thalke Thyen, Max Mörtl, Maria Teixeira, Merlin Flügel, Jonatan Schwenk, Ramona Lüdemann, Carolina Iglesias
camera (real-time-part) Ferdinand Kowalke
stop-motion camera Jonatan Schwenk
best boy Björn Ullrich
assistant director Merlin Flügel
set manager Joey Arand
production assistant Carolina Iglesias
stop-motion animator Jonatan Schwenk
2d animators Marta Magnuska, Jonatan Schwenk
retouch & rig removal Mascha Balura, Lea Majeran, Maria Teixeira, Aaron Farkas, Jade Stendel (PixelPEC) Irina Rubina,
Chengjie Xu, Yu Hao
3d models & textures Valentin Oellers, Ferdinand Kowalke
2d tracking Maria Teixeira
3d tracking Valentin Oellers
compositing Marc Rühl, Jonatan Schwenk
color grading Matthias Behrens (waveline), Jonatan Schwenk
graduation film at HfG Offenbach
funded by HessenFilm und Medien GmbH & FFA